Mastering everyday life with a hearing impairment:
As a speech-to-text interpreter, I can offer support.
Why you should work with me
I listen – you understand!
You're having an important conversation or want to follow a presentation? I'll make sure you don't miss a thing, so you can relax.
As a speech-to-text interpreter, I write everything down – so you'll understand every word.
I am where you need me.
I sit next to you in the lecture hall, accompany you to the doctor's office or take part in a business meeting or a general meeting with you. And if desired, everything online as well.
No matter where – I'm at your side.
I enjoy what I do.
Helping people to participate in society more easily is fulfilling work. You can look forward to working with a committed, dependable partner who will enjoy finding the solution that's exactly right for you.
Enabling the hard of hearing to
participate more

in society and events
Accessible communication: Speech-to-text interpreting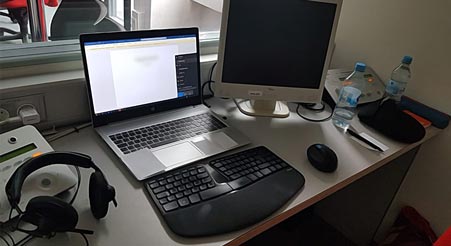 I'm a certified speech-to-text interpreter, which means that I translate the spoken word to text, live and in real time. You choose whether you need it word for word or prefer a summary.
And you can just relax and read along, participating actively in any conversation.
My services are also available for the hearing, for example for complex presentations, conferences, conventions, trade fairs and similar events, no matter the industry. I look forward to discussing what kind of service I can offer you.
What does a speech-to-text interpreter do? A short video explanation:
By clicking the play button, various data such as your IP address is transmitted to YouTube / Google in the USA and cookies are set on your computer. You can read more about this in my privacy policy.
On location in Berlin and Franconia
I'm based both in the capital and in beautiful Franconia where I'm directly available to come on-site for you.
Going further afield
If you're further away, we can always discuss whether you need me to come to your location, whether you would like me to join you online – or whether I should continue to take care of you in collaboration with colleagues from my nationwide network.
---
Speech-to-text interpretation

makes communication possible
My clientele
Among others, my services are aimed at:
People who are deaf (including late-deafened people), hard of hearing, users of hearing aids or cochlear implants and people without hearing.
Anyone who prefers subtitles, so as to better understand the spoken word (because they haven't mastered the German language fluently yet or as support for complex topics).
Possible areas of service
Health: doctor's appointments
Work: meetings, team meetings, training
Education: college, vocational training, school
Politics: party conferences, parliamentary work on a federal or national level
Culture/Events: conventions, conferences, trade fairs, meetings
Private: appointments with official authorities, in court
Take home a transcript
Every transcript – be it of a lecture, a meeting, or a conference – can only be a snapshot helping you follow a conversation or lecture. Usually, transcripts are deleted immediately after use. However, if you would prefer to review proceedings at your leisure after the fact, we can arrange for you to take home the transcript as an additional service. Before the assignment, we will clarify the applicable data protection requirements and my fee. Afterwards, I will revise the transcript and anonymize it where necessary.
Professionally equipped for on-site assignments
My laptop and my tablet complete with specialized software, my headset with microphone or mask for speech recognition, as well as my sunny disposition: These are the tools of my trade that I use to support you anywhere, online and off.
I'll work with you to tailor the technical requirements to each individual assignment. Among the things that may be required are a stable Wi-Fi connection, a projector, or microphones close to the speakers.
Prizes
My fee depends on the assignment type and effort. Let's get together so we can work out what you need, then I will make you an offer.
The cost for speech-to-text interpreting is often covered by third parties. In Germany, applicable laws include the Social Security Code and the Equality Law for People with Disabilities. The institutions covering the cost depend on the type of assignment and may include health and employers' liability insurance companies, your local employment agency, authorities for inclusion, and pension insurance companies. In addition to these providers, you may also be able to access a so-called "personal budget".
If you're unsure if this applies to you, I'm happy to advise
Trustful and
reliable

cooperation
Rita Middendorf, Stargazer
As a child, I loved looking up at the night-blue sky and watching the glittering stars, convinced that one of them had to be my own.
That's when I decided I wanted to be an astronaut to search for my star. However, the journey to my own star was doomed to fail, because it turned out I had little aptitude for the study of physics or math.
So, for the time being, I needed to find my final frontier down here on Earth. The second-best idea for me, after becoming an astronaut, was to study event and tourism management, including semesters abroad in the US and Australia.
In the process, I discovered that I enjoyed all things organizational. The event industry was the ideal area for someone like me: an outgoing personality who's good at getting things done. For years, I worked in this industry, as a band manager and in ticketing for events in music, culture, and sports.
During that time, I learned just how important accessible communication can be in the entertainment sector, and that it's vital to enable everyone to participate in society and events.
This quickly led to a desire to do my part, too. And that's exactly what I'm doing these days as a speech-to-text interpreter.
I still look at the stars, by the way – through a really big telescope by now. But I've learned that you can find your own star right here on Earth as well.
Experience

in a variety of fields
Contact me